VALIANT FOR THE TRUTH
=======================================================================================================
[Home] [Palace Beautiful] [Fighting Apollyon] [Gaius' House] [Introduction][What's New]
=======================================================================================================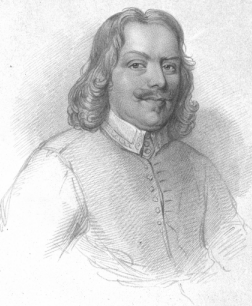 John Bunyan, author of Pilgrim's Progress
NEVER READ: What! You have never read Pilgrim's Progress. There is no time like the present. You can find a link to this book on the Bunyan Resources Page. Or click Here to get a little sample. I have included the first page of this book to whet your spiritual appetite. It may be, that after getting a little taste, you will not be satisfied until you have read the whole thing. Besides, you cannot understand the allusions contained in the Valiant for the Truth web page without first reading Pilgrim's Progress for a little background. Note: Online Bible contains the entire text of three of John Bunyan's books, Pilgrim's Progress, Holy War, and Grace Abounding to the Chief of Sinners. (Online Bible USA 800 243-7124)
Whats New: As Valiant for the Truth is modified you will find a log here detailing the latest revisions. This should be an aid to anyone who would like to come back from time to time just to see the new material.
Palace Beautiful: Visit "Palace Beautiful" and find some heavenly treasures. This is a place of instruction and encouragement. A place to equip the saint to "so run as to obtain" and "fight the good fight." Currently features a series of five studies on The Precious Things of God. Also Visit PALACE BEAUTIFUL for a Marriage Study called, The Mutual Duties of Husbands and Wives Towards Each Other, by Richard Baxter. Modernized and Abridged with my apologies. Now at Palace Beautiful you will find a wedding shower devotional prepared and presented by a dear friend of ours who, with her own dear husband, hope to soon go to the mission field.
Fighting Apollyon: After Christian left Palace Beautiful and before he entered the Valley of the Shadow of Death he met up with Apollyon. They engaged in a deadly struggle. It appeared that he may receive his death blow. My heart soared when Christian uttered, "Nay in all these things we are more than conquerors through him that loved us." View the battle with Apolloyon and find bible studies here related to the war Diabolos is now waging against the church. The battle fronts currently engaged? Christian Psychology, Evolution, and the assault on Sound Doctrine.
At the House of Gaius: Visit here to join in our weekly Bible Study. The material posted here will be cumulative. We have begun a new series of topical items covering the foundational doctrines of the Scripture. Truths that are essential to a right and true walk with God. The first item posted will encourage us to the necessity of such a study. This is followed by a study on the Doctrine of the Holy Scriptures called The Preciousness of God's Word which was prepared with much help from Octavius Winslow and his book, The Precious Things of God.
Question of Legitimacy: Are you a "Carnal Christian?" If so you may want to use this letter when applying for church membership.
Godly Brokeness: In August of 1998 God was pleased to send Yesupadam and his wife to our home. Prior to this time I had neither seen nor spoken to this man before. But receiving him on good recommendation he lived with us for 8 days. By the grace of God we saw many lives touched as other homes and churches were open to hear this man from India preach with prophetic force. He indeed has a message for the church in America, WAKEUP! Everyone in my family was changed through our knowing and learning from Yesupadam, both his Word and Example. I myself learned a new brokeness before God. Brokeness over my own sin and an awareness of my littleness before a great and majestic God. Godly brokeness and humility is greatly to be desired and without doubt contrary to our natural inclination. May this study enable you by the grace of God to be broken and contrite before God. Psa 51:17 The sacrifices of God are a broken spirit: a broken and a contrite heart, O God, thou wilt not despise.
Love-n-Care: Link to Love-n-Care Ministries, which is presided over by the loving care of Yesupdam. PRAY FOR INDIA!
Bunyan Resources: Here is a page of suggestions to enhance your study and enjoyment of the works of John Bunyan. Many of these have been a great blessing to our family. Sermons, electronic text, and dramitizations.
Hopefully much more to come. May the grace of our Great God and King Jesus Christ who is the Creator of the World and the Saviour and Redeemer abound unto you!
Sign My Guestbook
View My Guestbook
Scott D. Andersen
1Cor 2:2 For I determined not to know any thing among you, save Jesus Christ, and him crucified.
=======================================================================================================
[Home] [Palace Beautiful] [Fighting Apollyon] [Gaius' House] [Introduction]
=======================================================================================================