VALIANT FOR THE TRUTH
=======================================================================================================
[Home] [Palace Beautiful] [Fighting Apollyon] [Gaius' House] [Introduction]
=======================================================================================================
FIGHTING APOLLYON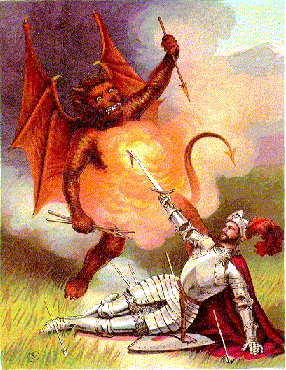 Christian Fighting Apollyon by John Bunyan. Read in Bunyan's own words, right from Pilgrim's Progress, the wonderful incident, of the timeless battle, between Christian and Apollyon. See Ephesians 6:10-20.
What a great war is being waged by the enemies of the gospel of Jesus Christ. Three men, though dead, yet wield a great influence: Darwin, Freud, and Marx. In how many ways has their message infiltrated the church as Paul warned with tears: Acts 20:29-31 For I know this, that after my departing shall grievous wolves enter in among you, not sparing the flock. Also of your own selves shall men arise, speaking perverse things, to draw away disciples after them. Therefore watch, and remember, that by the space of three years I ceased not to warn every one night and day with tears.
Find weapons and armor here against the Apollyon of "christian" psychology: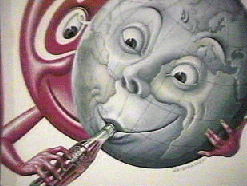 The church in the world is being bottle fed pop-psychology!
Self-Theories. THE BROKEN CISTERN OF MODERN CHRISTIAN SELF THEORIES Jeremiah 2:13 For my people have committed two evils; they have forsaken me the fountain of living waters, [and] hewed them out cisterns, broken cisterns, that can hold no water.
Selfisms: Shorter study than the above. Discusses the issues and verses related to "Christian selfisms." Click and see.
PMA: Positive Mental Attitude and the Christian. First taught in response to religious literature aimed at a Teenage Sunday School class. After examining PMA, direction is laid out concerning Minding the things of the Spirit of God from Rom 8:5.
Dealing with Family Stress: This study was assigned to me as a Sunday School class for adults. It was the chosen topic of the quarterly we used at our church. It is amazing and sad how far from scripturual truth religious literature will depart as it strives to integrate man's wisdom and God's. In this study an attempt is made to both warn against the psychologizing of the church and also to offer GREAT COMFORT and practical spiritual counsel for the believer who is undergoing trials of various kinds and especially those family related.
Psychoheresy: For more information and resources check out this link to the Psychoheresy-Awareness Ministries web page. I have read most of their books and found them to be very beneficial. On one occasion I wrote the Bobgan's regarding a question I had involving a family member whom I was gravely concerned about. Knowing how busy the Bobgan's must be and not really expecting an answer I was wonderfully surprised one evening when Martin Bobgan personally called me long distance. Not once but twice. The first time I was not home -- he called a second time later in the evening and offered whatever assistance he could in advising me in a very tough situation. Check out their site you may be challenged but they do tell the TRUTH which is a very loving thing indeed.
Defense against Apollyon's War on Sound Doctrine:
Endless Punishment: This study is actually a personal letter addressed to a friend questioning the doctrine of endless punishment. The enemy often designs to bring doubt upon sound doctrine that he might shipwreck the faith of some. Often whole sects and cults are founded by their identity in some definance against certain true doctrines. We need to establish a foundation of sound doctrine in our own lives. (See the study in progress at Gaius' House regarding the foundational things of the Christian faith.)
Find armor in these links for the BATTLE AGAINST the APOLLYONISH DARWINISM:
Answers in Genesis: We just finished in March 1999 a 12 tape series by Ken Ham and Gary Parker. Very GOOD! Challenging especially as they bring out the implications of believing all we read in Genesis -- and the implications if we don't'! Recommend this tape series very highly. It comes accompanied with a teachers book which includes permission to make copies of certain material to be used as handouts. Recommend this series HIGHLY!!!
Christian Answers Net: More answers to all kinds of questions. Creation Science included.
Creation Research Society: It is as its name.
Creation Science Homepage: Lots of articles and information.
Creation: Varying quotes and articles. Stuff from Spurgeon, Calvin, and others.
ICR: Institute for Creation Research, Check out the Free Publications -- especially the Back to Genesis articles. Great article on Jesus and the Scriptures.
Scott D. Andersen
1Cor 2:2 For I determined not to know any thing among you, save Jesus Christ, and him crucified.
=======================================================================================================
[Home] [Palace Beautiful] [Fighting Apollyon] [Gaius' House] [Introduction]
=======================================================================================================